About Ruskin Park

Ruskin Park Hunting offers you some of the best habitat in South Dakota, including pheasant food plots, CRP acres, sloughs, and cornfields.
Ruskin Park Hunting is located near the James River in the heart of pheasant country. The lodge is 25 miles north of Mitchell, SD, home of the World's Only Corn Palace and Cabela's Specialty Stores, on Highway 34; it is 90 miles northwest of Sioux Falls.
All hunts are guided, and our guides Greg Engst and Steve Grohs are among the best in the business. Greg and Steve own superior hunting dogs, and your dogs are welcome too.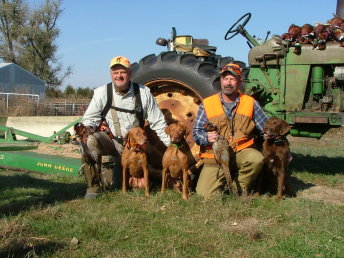 Guides Steve Grohs and Greg Engst
Safety is the first concern at Ruskin Park Hunting. Bright orange clothing is required; safety glasses are strongly recommended.
Your hunting package includes: